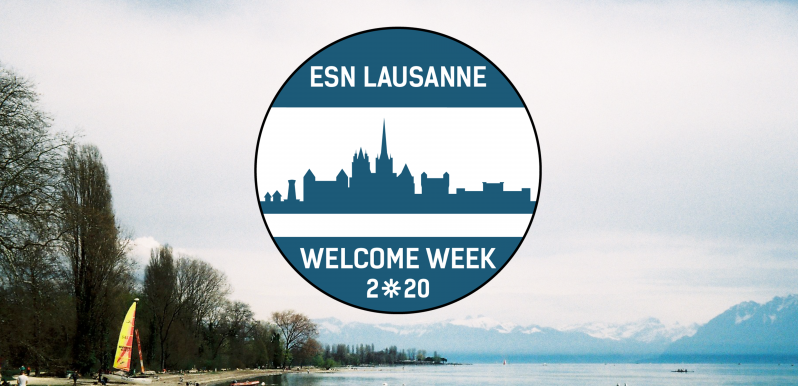 Hi!
Are you a student? Are you coming to Lausanne this upcoming spring semester? Do you want to fully immerse yourself in the Swiss culture during your stay in Lausanne? Are you awesome? Well, if you answered positively to all these questions, then brace yourself for the best semester of your life 

We are ESN (Erasmus Student Network) Lausanne and we are here to help you make the best of your exchange.
Whether you are looking forward to meeting new people or are scared of being alone in a new city, we are here for you! 
This year, due to the Covid-19 pandemic, our Welcome Week will be slightly different than the previous years.
However, despite this situation, our amazing team of volunteers is working hard to prepare the best Welcome Week ever for you. From Monday (September 7, 2020) to Sunday (September 13, 2020), you will get an opportunity to participate in a bunch of awesome events that will enable you to discover Lausanne, its students, its culture and its amazingness.
The detailed information about the events taking place during Welcome Week and registration will be posted here and on Facebook in the third week of August.
Additional information:
Welcome to your semester in Lausanne!!! You might think your semester only starts the 14th of September but it doesn't. For as you might have heard, between the 7th and the 13th of September, we (ESN EPFL and UNIL) are organizing for you an incredible Welcome Week so that you feel home far from home

 The Welcome Week will take place in present and will not be an online event. But don't worry your safety is our priority and all the events are organized such a way you can have fun under a safe environment. This week will be 7 days of events non-stop so that you can meet the people that will share with you the best semester/year of your life!!! Those events are prepared exclusively for exchange students from UNIL, EPFL, and other schools from Lausanne.
What is planned during this week ?
Monday : You'll start this journey by meeting your future new best friends in our famous SpeedFriending. You will have the opportunity to meet all the wonderful people you'll spend the entire week one by one. In the afternoon we will go for a walk in the beautiful Lavaux Vineyards. This breathtaking view of the Geneva lake and the alps is listed on the UNESCO World Heritage. At the end of the hike a wine tasting will be organised there 

Tuesday : Bright new morning of this marvelous week!!! At the menu we offer you the Lausanne Rally: an amazing opportunity to discover the city itself: we will take you treasure hunt style from spots to spots in the city center so that you can own this beautiful city.
Wednesday : Want to have fun with your buddies next to the Geneva lake shores ? Of course you do that's why we will organize for you some games in an Olympic Games style. 
Thursday : It's time to discover where you are gonna study this year. We will make you discover both campuses (EPFL and UNIL campus) in a treasure hunt way. 
Friday : On Friday you'll have the opportunity to visit the largest freshwater aquarium-vivarium in Europe. Aquatis is an aquarium situated in Lausanne where you can discover ecosystems from all the world.
Saturday : Is there any better way to enjoy the weekend than being on a boat on the Geneva lake ? Of course not and that's why we will spend this day by making a boat tour on the lake.
Sunday : If you choose to come to Switzerland for nature then you'll enjoy the last but not least day of the week. We will go hiking in the Alps ! We will leave Lausanne by train in the morning in order to be able to contemplate the beautiful mountainous landscape of Switzerland in the region of "Les Diablerets".
I know you are all screaming in front of your computer/phone "I'M DEFINITELY IN BUT HOW CAN I REGISTER ???". Well it's pretty simple all you need to do is to fill in this form and then we will send you a mail to confirm you have been registered (It may take some days to send it so you don't need to worry if you did not receive anything one day after). Don't hesitate to contact us if you think we missed your registration it would be terrible to miss this week isn't it

 ?
In some universities the Welcome Week has to take place online. In Lausanne we are lucky enough to have a proper Welcome Week but it means rules to follow. We had to work hard in order to be able to organize a safe Welcome Week for you so please follow our rules so we will be able to organize a lot of super events for you during the semester. We will ask you to follow those rules to avoid this event being transformed into a virus cluster :
Switzerland asks people coming from countries and areas with a high risk of infection to go in quarantine. You can find all the information about it here : https://www.bag.admin.ch/bag/en/home/krankheiten/ausbrueche-epidemien-pa... If you cannot join the Welcome week because of the quarantine don't worry we will organize a lot of other super cool events during the semester but you must follow Switzerland rules. BTW if you need to do this quarantine and you need help you can contact us and we will do as much as possible to help you. Please fill this form if you need help (or if you want to help).
If you feel symptoms of the virus, you must not join our event and stay home. 
If you develop symptoms after your participation in our events you must let us know directly. You can send us a mail or directly contact David our COVID manager (david.resin@epfl.ch or +41 77 439 03 66). 
If social distanciations cannot be respected you must wear a mask during our events.
Furthermore we advise you to download the application SwissCovid on your phone. Another great idea is to always carry with you a small bottle of hand sanitizer. We recommend you also to check the following link leading to the recommendations from the swiss government about to protect yourself and the others : https://www.bag.admin.ch/bag/en/home/krankheiten/ausbrueche-epidemien-pa...

We hope you are as hyped about this week as we are and that we will see you there ;D 
For any question regarding the welcome week, please address to wwesnlausanne@gmail.com
Website ESN EPFL: epfl.esn.ch
Website ESN UNIL: unil.esn.ch
Facebook Page ESN EPFL: https://www.facebook.com/esnepfl/
Facebook Page ESN UNIL: https://www.facebook.com/esn.unil/
Mascot ESN EPFL (Rick Roesti): https://www.facebook.com/rickroesti 
Mascot ESN UNIL (Colonel Fondue): https://www.facebook.com/fondue.colonel.5
Instagram ESN EPFL: esn_epfl
Instagram ESN UNIL: esn_unil
Telegram Channel: https://t.me/joinchat/AAAAAEs3V5QV2nRZg9rCXw?fbclid=IwAR2gUMTgmsfjAcgbnj-IW725VnaCUpeB1DpcQ_xX4gZHaf7RSu7rpDnaGI4
Facebook Group for exchange and international students in Lausanne:  https://www.facebook.com/groups/ESNLausanne2021
Contact:
In case you have questions regarding the Welcome Week, you can write us an email on the following address: wwesnlausanne@gmail.com
Your beloved Welcome Week Team