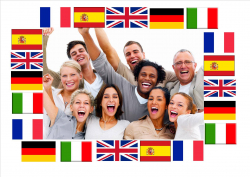 Would you like to practice another language ?
And would you teach your mother tongue ?
Then join us next Thursday !
We are looking forward to meet you =)
By the way it's free and open for everyone !

Tu aimerais pratiquer une autre langue ?
Et tu es prêt(e) à enseigner ta langue maternelle ?
Alors rejoins nous jeudi prochain !
On se réjouit de faire ta connaissance =)
Si jamais c'est gratuit et ouvert à tout le monde !